acquired December 8, 2013

download large image (278 KB, JPEG, 1440x1440)
acquired December 8, 2013

download GeoTIFF file (3 MB, TIFF)
acquired December 8, 2013

download Google Earth file (KML)
Volcanic activity along the western edge of the Pacific "Ring of Fire" gave rise to a tiny island in late November 2013. Located in the Ogasawara Islands, part of the Volcano Islands arc, the new islet sits about 1,000 kilometers (600 miles) south of Tokyo in waters considered part of Japanese territory.
The Advanced Land Imager (ALI) on NASA's Earth Observing-1 (EO-1) satellite captured this natural-color image on December 8, 2013. The water around the island is discolored by volcanic minerals and gases and by seafloor sediment stirred up by the ongoing volcanic eruption. The faint white puffs above the center and southwest portion of the island are likely steam and other volcanic gases associated with the eruption.
The new island, named Niijima, rose up out of the sea during a volcanic eruption first reported on November 20, 2013. Niijima sits about 500 meters from Nishino-shima, another volcanic island that last erupted and expanded in 1973–74. The two islands are located at approximately 27°14' North latitude and 140°52' East longitude, about 130 kilometers (80 miles) from the nearest inhabited island.
In the first few days after the eruption, scientists speculated that Niijima might not last. New islets like those recently formed off of Pakistan and in the Red Sea can naturally sink back below the water line as they are eroded by wave action that carries away loose sediment, mud, and tephra (volcanic rock fragments). Some subsidence can also occur from the simple weight of gravity and the cooling of the hot rock.
But according to news reports, Niijima is still erupting and growing. Scientists from the Japan Meteorological Agency think the island is large enough to survive for at least several years, if not permanently. By early December, Niijima had grown to 56,000 square meters (13.8 acres), about three times its initial size. It stands 20 to 25 meters above the sea level.
Below are two aerial photographs of Nishino-shima and Niijima taken by the Japan Coast Guard (JCG) on December 1 (top) and December 13, 2013. The JCG also shot some video clips that you can see here.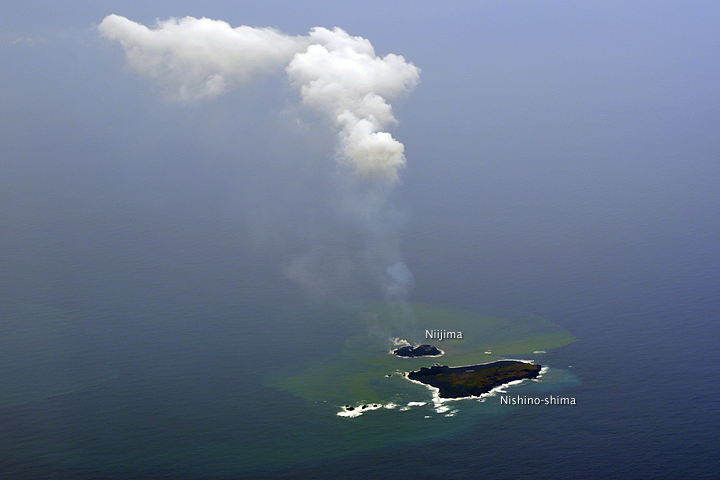 acquired December 1, 2013
acquired December 13, 2013
References

Agence France Presse, via The Australian (2013, December 10) Japanese island created by volcanic eruption is still growing. Accessed December 16, 2013.
Eruptions Blog, via Wired magazine (2013, November 21) Eruption at Nishino-shima in the Pacific Produces a New Island. Accessed December 16, 2013.
Global Volcanism Program, Smithsonian Institution (2013) Nishino-shima. Accessed December 16, 2013.
The Tokyo Times (2013, December 12) Japan's newest volcanic islet expands by 3X. Accessed December 16, 2013.
Instrument:

EO-1 - ALI


NASA: Japanese territory - New Island in the Ring of Fire - 12.18.13





Ricardo M Marcenaro - Facebook

Blogs in operation of The Solitary Dog:
Solitary Dog Sculptor:
http://byricardomarcenaro.blogspot.com
Solitary Dog Sculptor I:
http://byricardomarcenaroi.blogspot.com

Para:
comunicarse conmigo,
enviar materiales para publicar,
propuestas comerciales:
marcenaroescultor@gmail.com
For:
contact me,
submit materials for publication,
commercial proposals:
marcenaroescultor@gmail.com


My blogs are an open house to all cultures, religions and countries. Be a follower if you like it, with this action you are building a new culture of tolerance, open mind and heart for peace, love and human respect.

Thanks :)

Mis blogs son una casa abierta a todas las culturas, religiones y países. Se un seguidor si quieres, con esta acción usted está construyendo una nueva cultura de la tolerancia, la mente y el corazón abiertos para la paz, el amor y el respeto humano.

Gracias :)