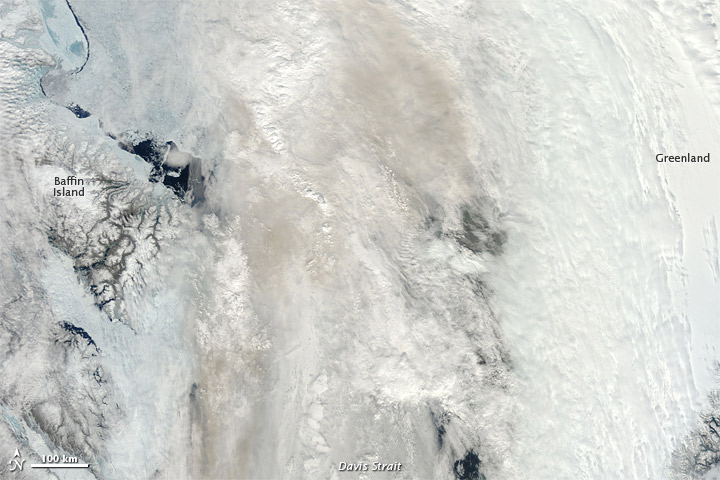 acquired June 14, 2012

download large image (5 MB, JPEG, 5600x7200)
Smoke hovered over the Davis Strait and Labrador Sea in mid-June 2012. The Moderate Resolution Imaging Spectroradiometer (MODIS) on NASA's Terra satellite captured this natural-color image on June 14, 2012. It shows a mixture of smoke and clouds over the icy region between Canada and Greenland.
The smoke likely originated from fires in Labrador. CBC/Radio-Canada reported that smoke from wildfires in the region prompted authorities to consider evacuating nearby communities, and MODIS observed thick smoke plumes on June 13.
Backward trajectories of the smoke calculated through the Hybrid Single Particle Lagrangian Integrated Trajectory Model (HYSPLIT) indicate that smoke traveled northeastward over the Labrador Sea and Davis Strait. "There is strong evidence that Labrador smoke got into the upper troposphere," said Mike Fromm of the U.S. Naval Research Laboratory, "where it can often last a long time and travel great distances."
The sea ice along the left edge of this image is tinted blue, probably due to surface melt.
References

CBC News. (2012, June 14) Crews tackle central Labrador fires. Accessed June 21, 2012.
NASA image courtesy Jeff Schmaltz, LANCE MODIS Rapid Response. Caption by Michon Scott with information from Charles Ichoku, NASA Goddard Space Flight Center; and Mike Fromm, U.S. Naval Research Laboratory.
Instrument:

Terra - MODIS



Ricardo M Marcenaro - Facebook

Operative blogs of The Solitary Dog:

solitary dog sculptor:
http://byricardomarcenaro.blogspot.com

Solitary Dog Sculptor I:
http://byricardomarcenaroi.blogspot.com

Para:
comunicarse conmigo,
enviar materiales para publicar,
propuestas:
marcenaroescultor@gmail.com

For:
contact me,
submit materials for publication,
proposals:
marcenaroescultor@gmail.com

Diario La Nación
Argentina
Cuenta Comentarista en el Foro:
Capiscum

My blogs are an open house to all cultures, religions and countries. Be a follower if you like it, with this action you are building a new culture of tolerance, open mind and heart for peace, love and human respect.

Thanks :)

Mis blogs son una casa abierta a todas las culturas, religiones y países. Se un seguidor si quieres, con esta acción usted está construyendo una nueva cultura de la tolerancia, la mente y el corazón abiertos para la paz, el amor y el respeto humano.

Gracias :)