acquired June 29, 2012

download large image (1 MB, JPEG, 2592x1936)
On June 29, 2012, a windstorm started in northwestern Indiana, and traveled roughly 600 miles (1,000 kilometers) eastward to the Atlantic Ocean. Embarking on a roughly 10-hour journey, the fast-moving storm toppled trees, downed power lines and left more than a million residents without power in the District of Columbia alone.
The storm was what meteorologists call a derecho. Deriving its name from the Spanish term for "straight ahead," derecho storms generally blow in one direction. They do not swirl like tornadoes, but they can cause tornado-style damage. The U.S. National Oceanic and Atmospheric Administration (NOAA) reported that the wind gusts in the June 29 derecho rivaled those of an EF-1 tornado.
This photo, also available from the NOAA storm summary, was taken in LaPorte, Indiana, on the afternoon of June 29. It shows a shelf cloud on the leading edge of the derecho. These long, flat clouds are often associated with thunderstorms, and the massive windstorm that swept over the eastern United States was also associated with thunderstorms—a long line of them stretching for hundreds of miles.
The June 29 derecho occurred along the boundary of two air masses. In the north, the air was stable and dry. In the south, the air was unstable and moist. And hot. The Capital Weather Gang reported that, before the derecho began, areas affected by the southern air mass were facing record-high temperatures—109 degrees Fahrenheit (43 degrees Celsius) in Nashville, Tennessee, and Columbia, South Carolina; and 104 degrees (40 degrees Celsius) in Washington, DC. This hot, humid air provided fuel for the windstorm, which pulled the air skyward, then returned it in violent downdrafts.
Derechos have occurred before, and were actually given their name in the late nineteenth century. They occur most often in the Midwestern and Great Lakes regions of the United States, between May and July. To qualify as a derecho, a storm must cause damage over 240 miles (400 kilometers) and pack wind gusts of at least 58 miles (93 kilometers) per hour. The June 29 derecho damage extended over a much greater length, and the storm brought wind gusts of more than 90 miles (145 kilometers) per hour. The June 29 storm did not just qualify as a derecho. It was, according to the Capital Weather Gang, "one of the most destructive complexes of thunderstorms in memory."
References

Johns, R.H., Evans, J.S., Corfidi, S.F. (2012, March 1) About derechos. NOAA. Accessed July 2, 2012.
National Weather Service Weather Forecast Office Northern Indiana. (2012, July 1) June 29, 2012, derecho event. NOAA. Accessed July 2, 2012.
Samenow, J. (2012, June 30) Derecho: Behind Washington, D.C.'s destructive thunderstorm outbreak, June 29, 2012. Capital Weather Gang. Accessed July 2, 2012.
Photo courtesy Kevin Gould / NOAA. Caption by Michon Scott.
Instrument:

Photograph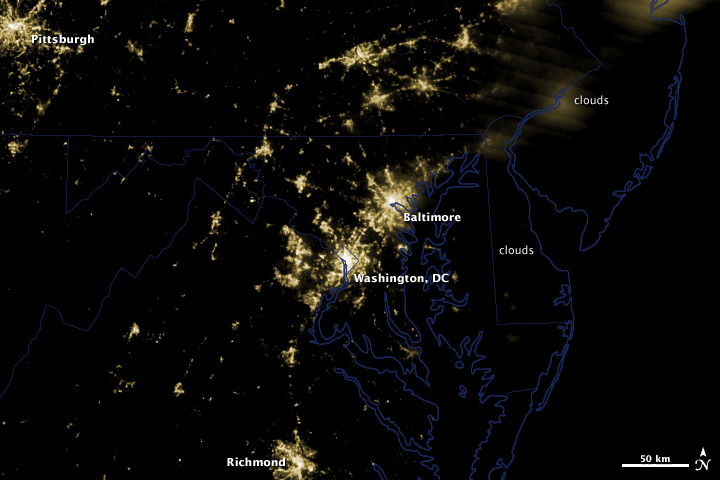 acquired June 30, 2012

download large image (442 KB, JPEG, 1972x1972)
acquired June 28, 2012

download large image (572 KB, JPEG, 1972x1972)
These before and after images from NASA's Suomi National Polar-orbiting Partnership satellite show the power outages in the clear skies over Washington, DC and Baltimore that occurred as a result of a rare, fast-moving thunderstorm system on Friday, June 29th.
Extensive power outages in Washington, DC and Baltimore are visible in these images. Clouds obscure the lights of Philadelphia and other areas north and east of Baltimore. Of particular interest is the loss of light to the north and west of Washington, DC along the 270 and 66 interstate highways and Maryland route 267.
Known as a "derecho," the storm combined intense lightning and rain with hurricane-force winds that were upwards of 60 miles per hour (~96.5 kilometers per hour). It killed 22 people and caused some 4.3 million households to lose power for days.
Derecho is the Spanish word for straight and the storm raced from west of Chicago across Illinois, Indiana, Ohio, West Virginia, Virginia, Maryland, and Washington, D.C.
According to the National Weather Service, the gigantic windstorms of a derecho are as powerful as tornados, but the winds don't twist, instead driving in a straight line. To be classified as a derecho, the swath of wind damage must extend more than 240 miles and the storms are powered by hot, humid weather.
These images were taken with the day/night band of S-NPP's Visible Infrared Imaging Radiometer Suite (VIIRS). Suomi NPP was launched from Vandenberg Air Force Base on October 28th, 2011 and is the result of a partnership between NASA, the National Oceanic and Atmospheric Administration, and the Department of Defense.
NASA Earth Observatory image by Rob Simmon using data from the NASA/NOAA satellite S-NPP. Caption by Aries Keck.
Instrument:

Suomi NPP - VIIRS
NASA: US - Derecho Strikes the Eastern United States - Power Outages in Washington - DC Area - 04.07.12



Ricardo M Marcenaro - Facebook

Operative blogs of The Solitary Dog:

solitary dog sculptor:
http://byricardomarcenaro.blogspot.com

Solitary Dog Sculptor I:
http://byricardomarcenaroi.blogspot.com

Para:
comunicarse conmigo,
enviar materiales para publicar,
propuestas:
marcenaroescultor@gmail.com

For:
contact me,
submit materials for publication,
proposals:
marcenaroescultor@gmail.com

Diario La Nación
Argentina
Cuenta Comentarista en el Foro:
Capiscum

My blogs are an open house to all cultures, religions and countries. Be a follower if you like it, with this action you are building a new culture of tolerance, open mind and heart for peace, love and human respect.

Thanks :)

Mis blogs son una casa abierta a todas las culturas, religiones y países. Se un seguidor si quieres, con esta acción usted está construyendo una nueva cultura de la tolerancia, la mente y el corazón abiertos para la paz, el amor y el respeto humano.

Gracias :)